College of Tourism – Varna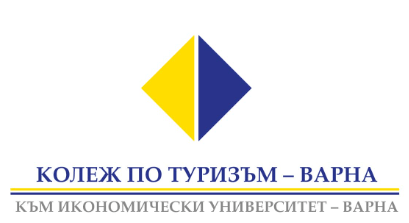 It is with joy and pleasure that we welcome you to the page of the oldest higher education school of tourism in Bulgaria – College of Tourism – Varna at the University of Economics – Varna, with a 57-year history.
Our mission is to build competitive tourism professionals and prosperous individuals. To this end, we strive to maintain an inspiring and active learning environment. An environment in which competences and qualities are acquired to make a successful career in the field of tourism and leisure, as well as to cope with the challenges of modern society and contribute to its development.
We carry out educational and research activities in close cooperation with the tourism business, non-governmental industry organizations, companies from the leisure industry and, of course, with the strong support of the Varna University of Economics.
The values ​​that unite us, inspire and create a distinctive college atmosphere are tolerance, encouragement of creativity, striving for improvement and care for former and current colleagues, clients, partners and guests of the college, Varna and Bulgaria!
Website: www.ue-varna.bg/bg/p/7761/za-nas/kolezh-po-turizam-varna